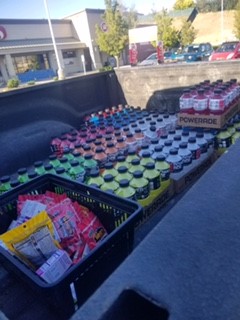 Whitman County Association of REALTORS® (WCAR) made a generous donation to the Whitman County Fire Protection District #14 – Colton-Uniontown Fire Department to show its support and gratitude to the hardworking firefighters battling the Steptoe Canyon Fire.
WCAR Community Outreach Chair Justine Germen delivered 170 bottles of POWERADE, 20 bags of trail mix and four boxes of Propel Electrolyte Mix to Whitman County Fire Chief Jay Reisenauer to show the association's appreciation of the volunteers who are working hard to keep our area safe.
Monetary contributions were also provided by Summit Realty Northwest and Dave Christy State Farm Insurance of Pullman.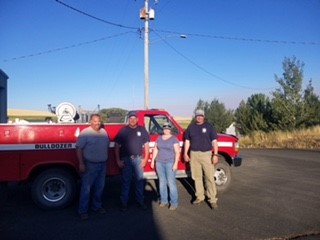 The association's contribution is being made on behalf of its 175-plus members and affiliates. Founded as the Whitman County Board of REALTORS® in 1963, the Whitman County Association of REALTORS® is a professional trade organization whose members are licensed real estate brokers dedicated to the principles found in the REALTOR® Code of Ethics. WCAR has earned the reputation as the voice for real estate for Whitman County, committed to achieving the goals of our clients and giving needed support to our community at large.